What is an avalanche beacon?
An avalanche beacon is the informal name for an avalanche transceiver, a safety device that transmits a signal that rescuers use to home in on someone buried by an avalanche.
Along with an avalanche shovel and avalanche probe, the avalanche beacon is one of the essential pieces of safety gear for backcountry winter travel.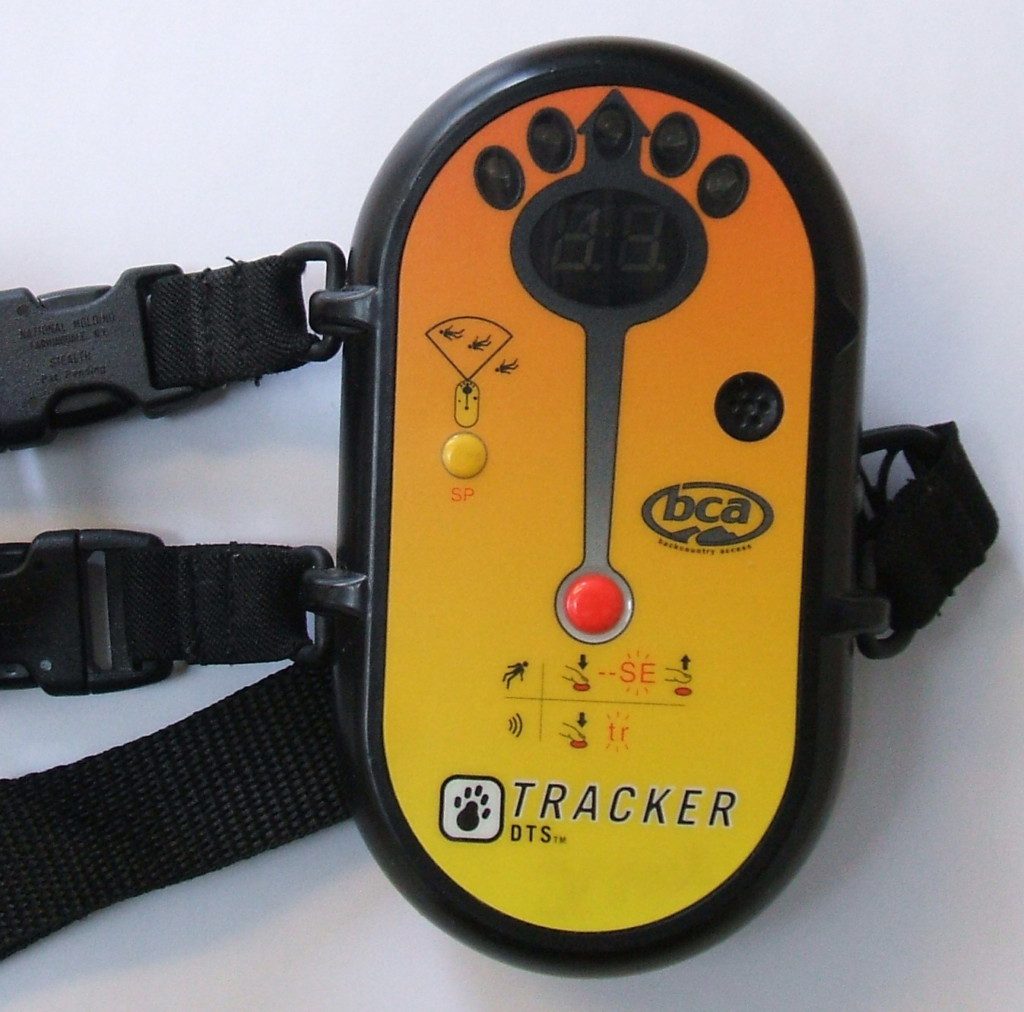 BCA Tracker DTS Avalanche Beacon. Source: Wikipedia[/caption]


How does an avalanche beacon work?
Avalanche beacons transmit a signal at 457 kHz that other transceivers can detect. Upon setting off into the backcountry, the beacon owner must activate the transceiver so it emits the signal. If there's an avalanche and a skier or snowboarder is buried, the victim's companion then switches the beacon so that it can detect the signal of the trapped rider. Hopefully, rescuers quickly find the buried victim. Then one or more rescuers can whip out their probe and shovel to locate and unbury anyone buried under the snow.
When it comes to avalanche beacons, it takes two to tango. If you have an avalanche beacon and get buried, you're pretty much fucked unless you have a companion or nearby stranger with an avalanche transceiver. At the same time, if you and your buddy are both buried under an avalanche, you may both die while your transceivers are emitting a signal that no one detects.


Avalanche beacon reviews
In learning more about avalanche transceivers, I discovered some great posts and comparison shopping pages, which are below. As the folks at Evo note, the key to your buying decision should be finding a device you can use in a panic:
The best beacon is the one that you can use competently and seamlessly in a high stress situation because you're thoroughly familiar with its operation and quirks. A more expensive or more fully featured beacon that you're unfamiliar with won't help you find a buried victim more quickly.
Outdoor Gear Lab provides a great overview of 15 models of avalanche transceivers. They use a six-point scale that includes range, speed, single-victim search, fine search, multiple burials, and features. Their Editors' Choice goes to the Mammut Puse Barryvox. Top picks went to the Pieps DSP Pro
and the Arva Neo
. The Backcountry Access Tracker 2
earned a Best Buy. Below is a screen shot from their awesome comparison tool, which deserves a visit.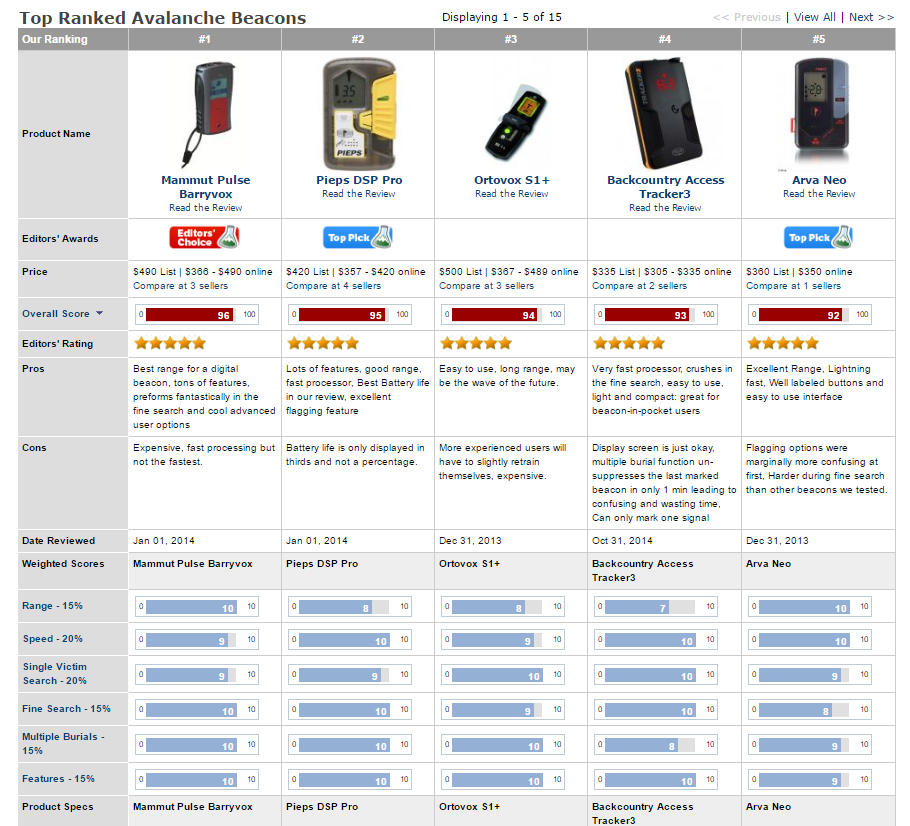 Screenshot of avalanche beacon reviews from Outdoor Gear Lab.
Avalanche transceiver videos
If you want to learn how to use an avalanche beacon, there are some helpful videos on YouTube that show how to test, practice, and deploy these devices.
How to Choose an Avalanche Beacon, Evo.

How to perform an avalanche beacon check, Outdoor Research.

Sources
The Best Avalanche Beacons, Outdoor Gear Lab.

As noted above, this is a great site for comparison shopping and reviews.

Avalanche Transceivers: How to Choose, REI

REI provides good advice on buying avalanche beacons and explains how the various technologies work.

How to Buy an Avalanche Beacon, Backcountry.com

Backcountry.com has a pithy overview and guide to buying avalanche transceivers.