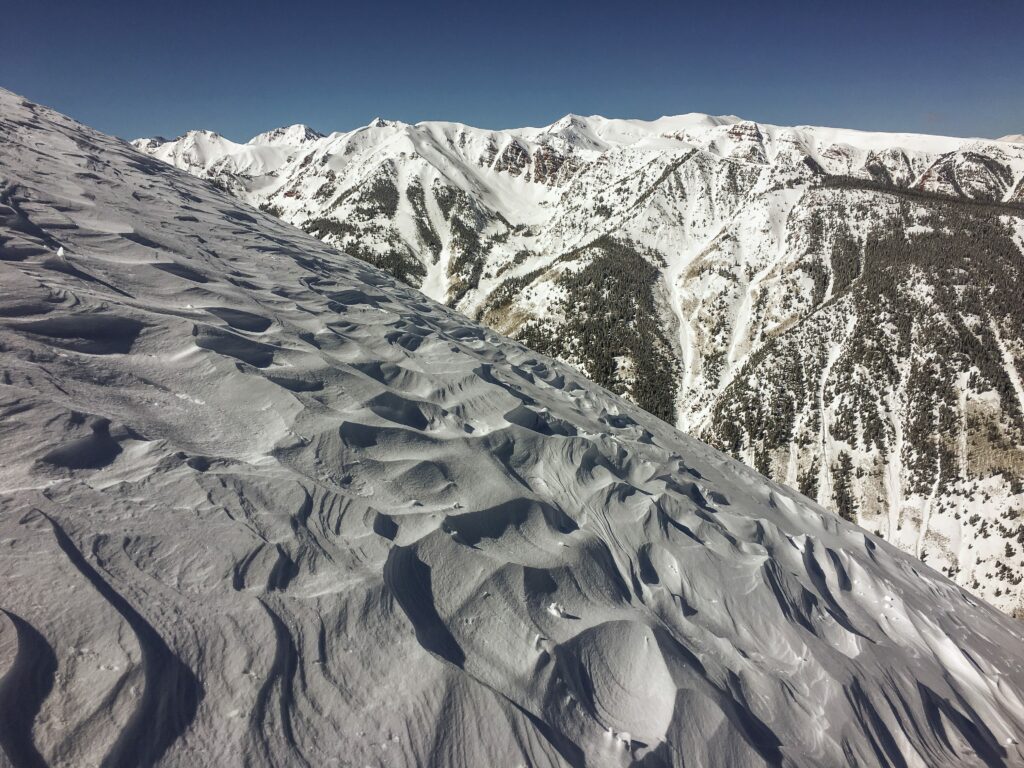 I'm excited to launch snow.news, a free multimedia newsletter for people who love snow and want to know what's happening with the American West's snowpack.
Snow is my muse, my passion, my obsession, and my occasional nemesis.
I'm launching snow.news because I'll never tire of learning about this captivating force of nature that is responsible for some of my life's most joyous—and harrowing—moments, sometimes on the same day!
My mission is to share what I find while exploring this fascinating form of weather and while reporting on how our precious snowpack is changing in the 21st century climate.
The snowpack is the foundation of the Southwest's water supply and what makes desert metropolises possible in a dry region that's aridifying further due to climate change.
Snow not only gives life to countless species and manifold ecosystems but also sustains jobs and rural economies that depend on farming, skiing, fishing, rafting, or all of the above, as is the case in my hometown of Durango.
Colorado and the mighty San Juan Mountains are my starting point, but I'll be reporting on the snowpack throughout the region. I'll share news, research, and insights from faraway places where it snows, even beyond the United States.
Snow News features
Snow News is a 100% free newsletter offering:
Original reporting and explanatory journalism on the latest snow science and the state of the snowpack

Interviews with leading scientists and other snow experts

Photos and videos that capture the beauty of snow and the joy of snow sports

Data visualizations depicting the weather, climate, and snowpack

Helpful resources for understanding and forecasting snow

Field reports and personal stories based on my exploration of the cryosphere
This is my personal newsletter and a passion project, but it will certainly be informed by my professional work as a journalist (my bio). I started covering water in the West 25 years ago as a newspaper reporter, and I now co-direct the Water Desk, an independent journalism initiative based at the University of Colorado Boulder's Center for Environmental Journalism that focuses on the Colorado River and Rio Grande, both of which depend on the snowpack.
I'll be publishing snow-related stories on waterdesk.org and elsewhere but will be using this newsletter to dig deeper and also cover snow-related issues that go beyond the water supply.
As I stand at the brink, ready to launch this newsletter after months of mental gymnastics, I feel like I'm at the top of a difficult ski run with sketchy visibility and many obstacles before me, some visible, others hidden. I'm anxious but excited, visualizing a fun ride while also wary of the challenges ahead.
After 53 years and more than my share of Sysphian endeavors, I've learned the hard way to make sure I'm crystal clear why I am taking on a new project.
10 reasons why I'm doing this
And so, a top-10 list of reasons why I'm taking the plunge:
I'm a weather nerd who is enchanted by snow and who worships winter storms.

I love to ski, snowboard, and otherwise recreate in the snow (although snowshoeing still leaves me cold).

I see huge news value in covering the current state and future trajectory of the snowpack, not only in the West but also around the world.

I don't think nearly enough people know about the importance of snow for the West's water, environment, economy, and way of life.

I'm sad and scared about what climate change is already doing to our planet's cryosphere, but I have lots of unanswered questions about the future.

I'm excited to share what I learn about snow, from snowflakes at the microscopic level, to the mountain snowpack as seen by satellites, to snowfall on other celestial bodies, and anything in between.

I desperately need to work on something fun and pursue curiosities wherever they lead in order to rekindle my love for writing.

I'm looking for an outlet for my visual journalism, and I think imagery is as essential as words for telling the story.

I want to connect with other people who love snow and meet experts who can explain its many facets.

I know everything gets politicized today, but I want to work primarily on the science of snow and cover an issue that's not so fraught, polarized, and divisive.
Questions? Suggestions?
If there's anyone in your orbit who might be interested in Snow News, please forward this email to them or suggest they sign up here.
I'll also be publishing content on social media, so please follow Snow News on Instagram, Threads, X, and Facebook.
And feel free to email me at mitchtobin@gmail.com if you have any questions or feedback about the newsletter. I'm always looking for new sources and story ideas.