Ski trail ratings: history and overview
Signs and maps bearing green circles, blue squares, and black diamonds are the main way that U.S. resorts communicate their ski trail ratings.
In an ideal, harmonious world, all ski resorts would use the same classification scheme and trail difficulties would be comparable. In reality, other countries use their own systems and even within the United States there is great variability in what constitutes a "blue" or "black" piste.
Within a given resort, all the greens should be about the same difficulty, and so on for blues and blacks. But as any skier or snowboarder will tell you, a trail's difficulty can change dramatically as the powder piles up or the surface ices over.
The graphic below shows how U.S. ski resorts classify their runs. I've included the language of the National Ski Areas Association, which instituted the system a half-century ago, and the more common nicknames.
In Europe and Japan, things are a little different, as shown in the graphic below from Signs of the Mountain. You can also see the former system used in the United States in the mid-1960s.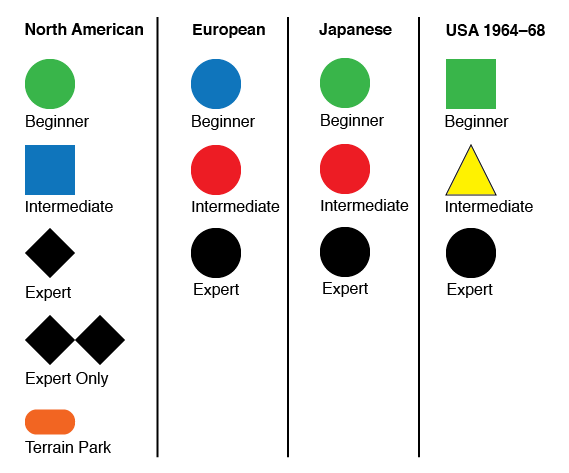 Disney's role in ski trail signs
Strangely enough, the Disney Company played a key role in the design of ski trail signs. In the 1960s, the company had plans to develop a Mineral King, a glacial valley in California's Sequoia National Park, into a ski resort. Thankfully, the nascent environmental movement prevented the project from turning a national park into a theme park, but the company had already figured out its trail signage. As John Fry and Bob Cram recount in a piece for skiinghistory.org:
The company had even tested skier's reactions to different geometric figures, concluding, for example, that the symbol for easy terrain should be a circle, perceived as soft; its color should be green, perceived as mellow.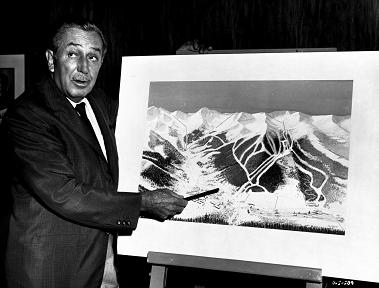 The National Ski Areas Association preferred Disney's design to its own, so it switched to today's colors and shapes in 1968.
Ski trail ratings and skier types
Frequently, skiers and snowboarders will simply refer to a trail by their colors (e.g., "let's go cruise that blue" or "that double black was gnarly").
The green-blue-black triad of trail difficulty has translated into a similar trio of descriptors for skiers and snowboarders. You'll hear someone described as a "green" snowboarder, a "blue" skier, or a "double-black" die-hard to describe people with beginner, intermediate, and expert skills, respectively. The infographic below, from Mountain Reservations, is a humorous look at classifying riders.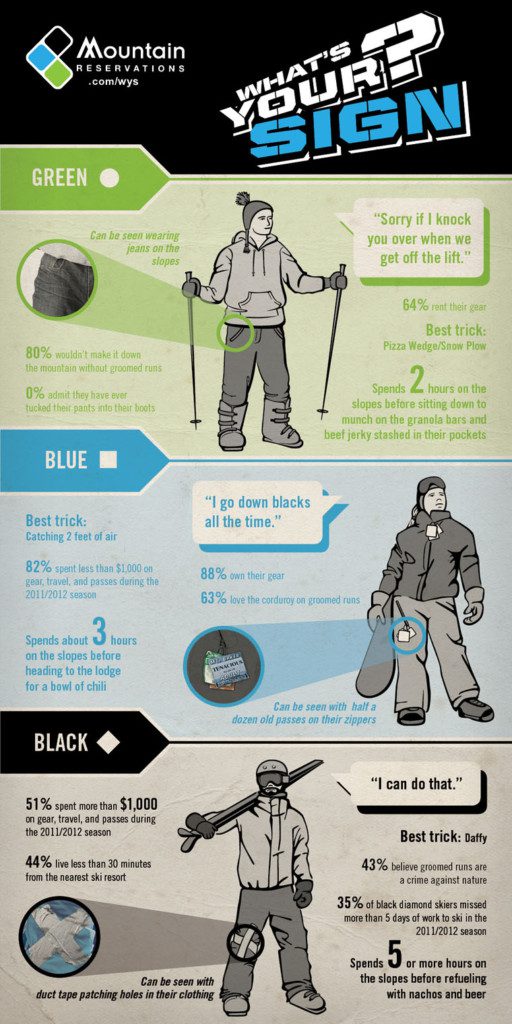 Although the green-blue-black scheme is used to classify skiers and snowboarders, it's not the same as "skier type," which ski shops use to determine the release settings for bindings. As shown in the graphic below, Type I is kind of like green/beginner, Type II is sort of like blue/intermediate, and Type III is little like black/difficult.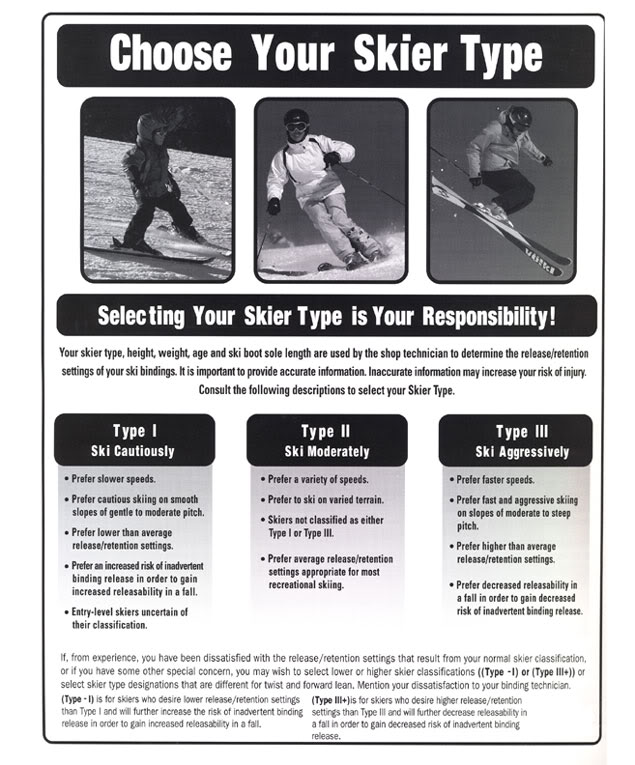 For Type I or "cautious" skiers, bindings will release boots quite easily, which is a good things since falls are to be expected. The settings are higher for Type II, and higher still for Type III, to decrease the chances of an inadvertent release of the bindings. But that also comes along with a greater risk that the bindings won't release in a fall and cause injury.
My sense is there are plenty of black and double-black skiers who don't use Type III settings for their bindings because they don't want to risk cartwheeling down the hill with their skis still strapped on, so there's not a one-to-one correspondence between a skier's "color" and their binding settings.
Ski trail ratings and slope
Skiers and snowboarders may wonder how steep or shallow a pitch must be to earn a green, blue, or black rating. I don't believe that the National Ski Areas Association or National Ski Patrol have any set guidelines, but the conventional wisdom (see this page) seems to be that greens are up to about 25% grade (100% grade is a 45-degree angle), blues are between 25% and 40% grade, and blacks are steeper than 40% grade.
Beyond the basic green-blue-black classification, U.S. ski resorts have some of their own trail classifications. At Winter Park resort in Colorado, for example, they use a hybrid symbol–a black diamond within a blue square–to mark "advanced intermediate" terrain. The image below, from Copper Mountain, shows how they mark some of the most difficult terrain.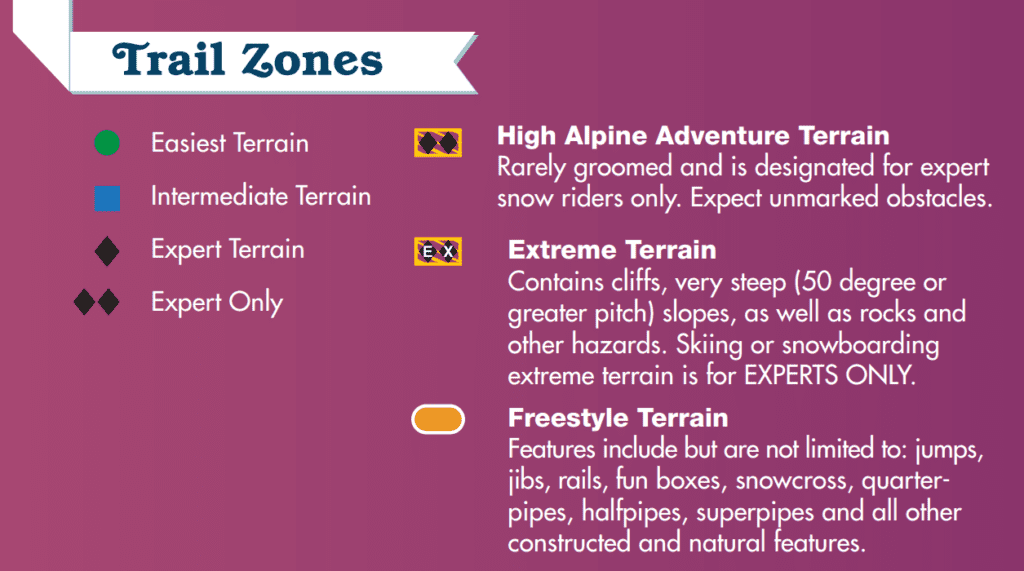 Source: Copper Mountain
Sources