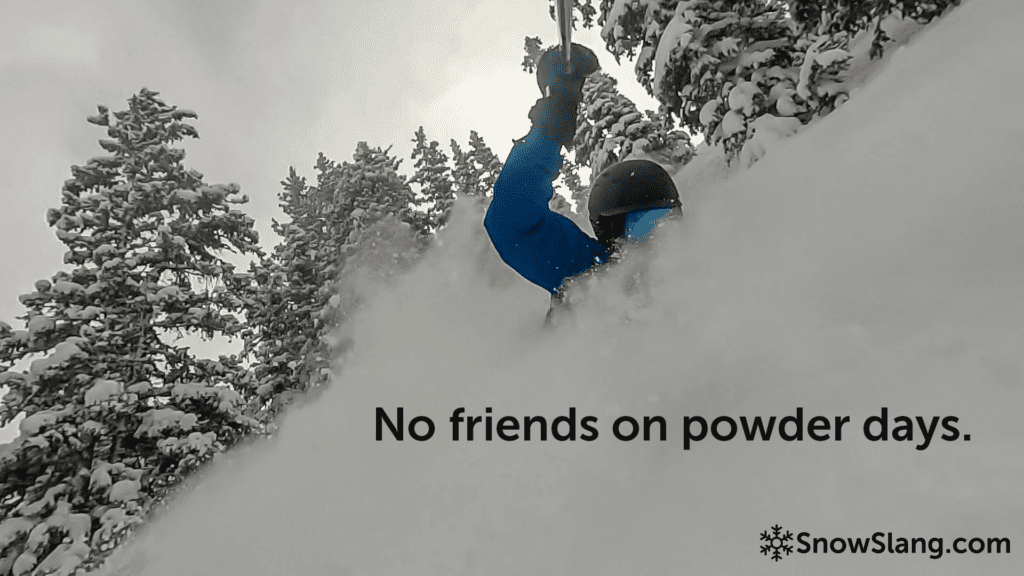 Riding with friends is great, but if it's dumping you must follow your inner Yeti and remember this sacred commandment of the ski bum: there are no friends on a powder day.
As any powder hound will tell you, if you wait for your friends to get their shit together in the morning, the trails will all be tracked out by the time you get your posse rounded up. Fresh pow is a perishable commodity!
I love my friends and there's certainly nothing wrong with skiing or snowboarding in a group on a powder day. But the adage does capture some mountain wisdom. Powder days often mean slow roads, big traffic delays, long lines, and other obstacles, all of which conspire against a wolfpack converging.
If you wait for your friends to show up, get dressed, put on their boots, buy their ski pass, go to the bathroom, get a snack, readjust their boots, go back to the car — the powder day may be over before it starts!
Source of no friends on powder days?
I'm an impatient introvert, so I was sold on this saw the moment I heard it, but the saying is a little standoffish.
Does anyone know the origin of this fine phrase? I've searched far and wide on the internet and haven't found any entries on the etymology.
One variant of the saying is "there's no waiting for friends on a powder day," as shown in the image below I found on Pinterest: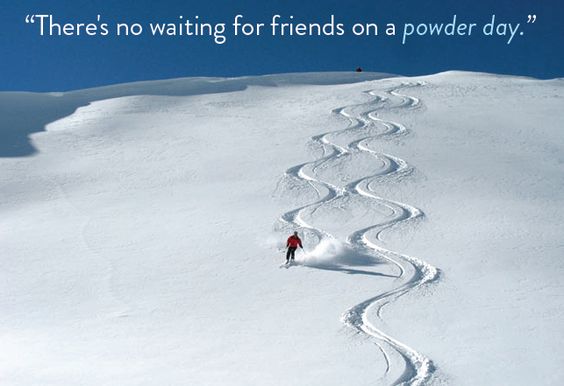 Another proverb that stresses putting one's sport before one's personal life is "no sex before game day." Although some teams, including many in World Cup soccer, abide by this motto, it's apparently an old wives' tale that sex diminishes athletic performance.
I see "no friends on a powder day" as a sort alpine version of "the early bird catches the worm." There's an implication that sleeping in and dilly dallying in the morning will deprive you of the prize, be it a face shot or an invertebrate.